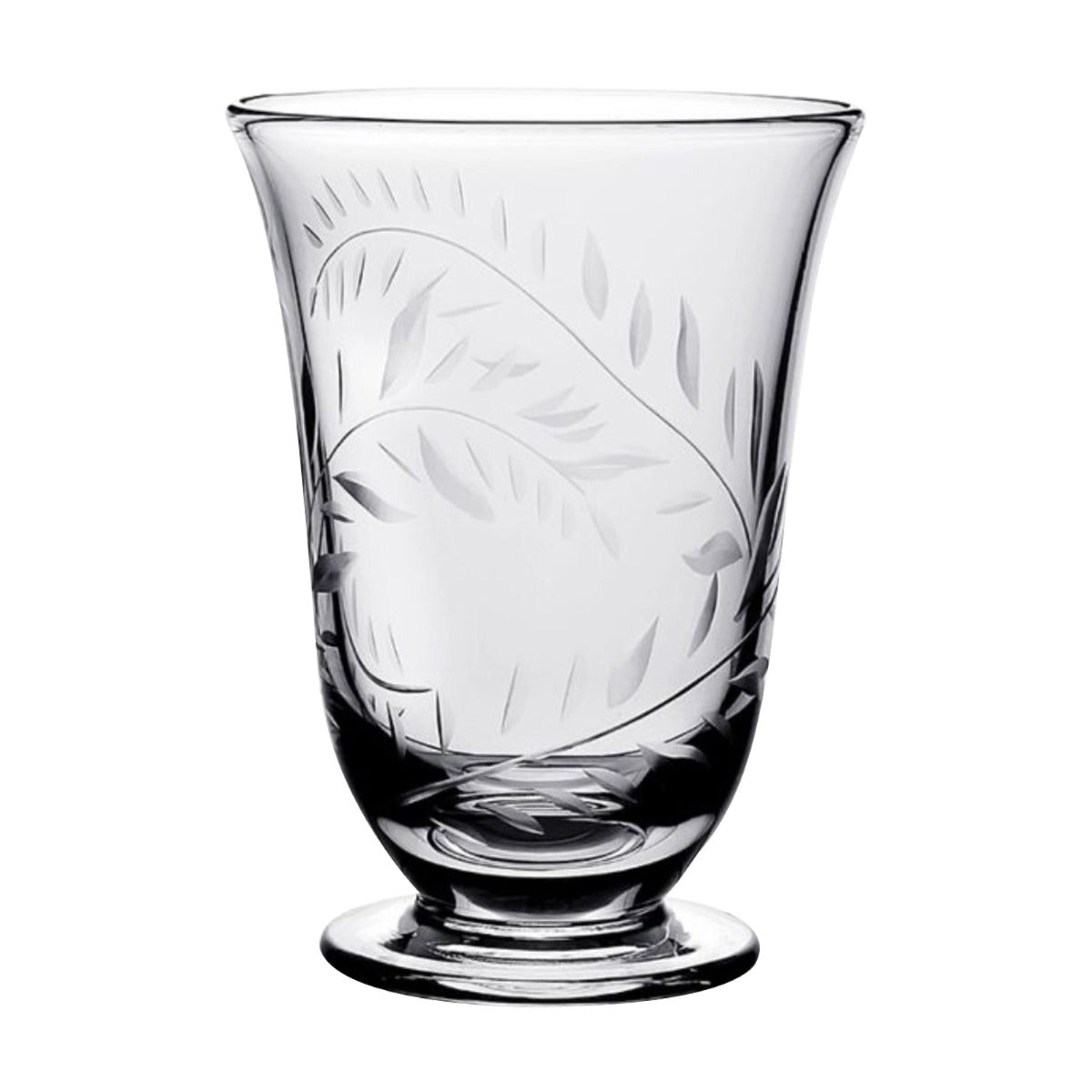 William Yeoward Footed Jasmine Flower Vase, 5"
A lovely handmade small vase with a delicate Jasmine Vine engraved around the body.
Details & Dimensions
The William Yeoward Jasmine Collection is hand-cut glassware that features a charming botanical motif that sweeps and envelopes each piece. Jasmine is part of the William Yeoward Country Collection and includes vases, barware, and serveware. William Yeoward Jasmine will take you on a magical journey into a fragrant country garden.
This product is manufactured with exquisite craftsmanship combined with originality that is made to the very highest and exacting standards.
Color: Clear
Material: Handmade Glass
Pattern: Jasmine
5" H
Care Instructions
William Yeoward Crystal is a handmade product and although it is robust, care should be taken in its use, cleaning, and storage.
To minimize the risk of damage and to keep your crystal in beautiful condition, it is recommended that your crystal should be washed by hand in a plastic bowl of warm water using a mild detergent; wash one item at a time, rinse in clear warm water and then place on a drainer. Dry the glasses when still warm using a soft, dry cloth, taking care always to hold the bowl of a wine glass when drying the stem and foot; never hold the foot when drying the bowl as this can easily lead to the bowl being twisted off and broken.
Decanters should always be washed and dried soon after use; leaving any liquid in a decanter for more than a few days can lead to hard-to-remove stains forming on the inside. The same applies to vases- limescale from water can easily damage the inside of the piece. Store empty decanters with the stopper removed, to avoid condensation staining the inside. Glasses should be stored the right way up not on their rims which are the weakest and most easily damaged part.
Crystal can easily break if subjected to rapid change in temperature; therefore do not use Crystal in a refrigerator or freezer. Similarly do not stand a cold piece of Crystal on a hot surface or vice versa. Be careful not to put a piece of cold Crystal, such as an Ice Bucket, directly into hot water. For best results we recommend that fine glassware and crystal should not be washed in a dishwasher - the high temperatures and detergents used can quite soon damage the surface of the glass, causing a grey 'film' to appear which it is impossible to remove. Occasional use in a dishwasher may cause no harm, provided that the glasses are taken out of the machine and dried by hand.