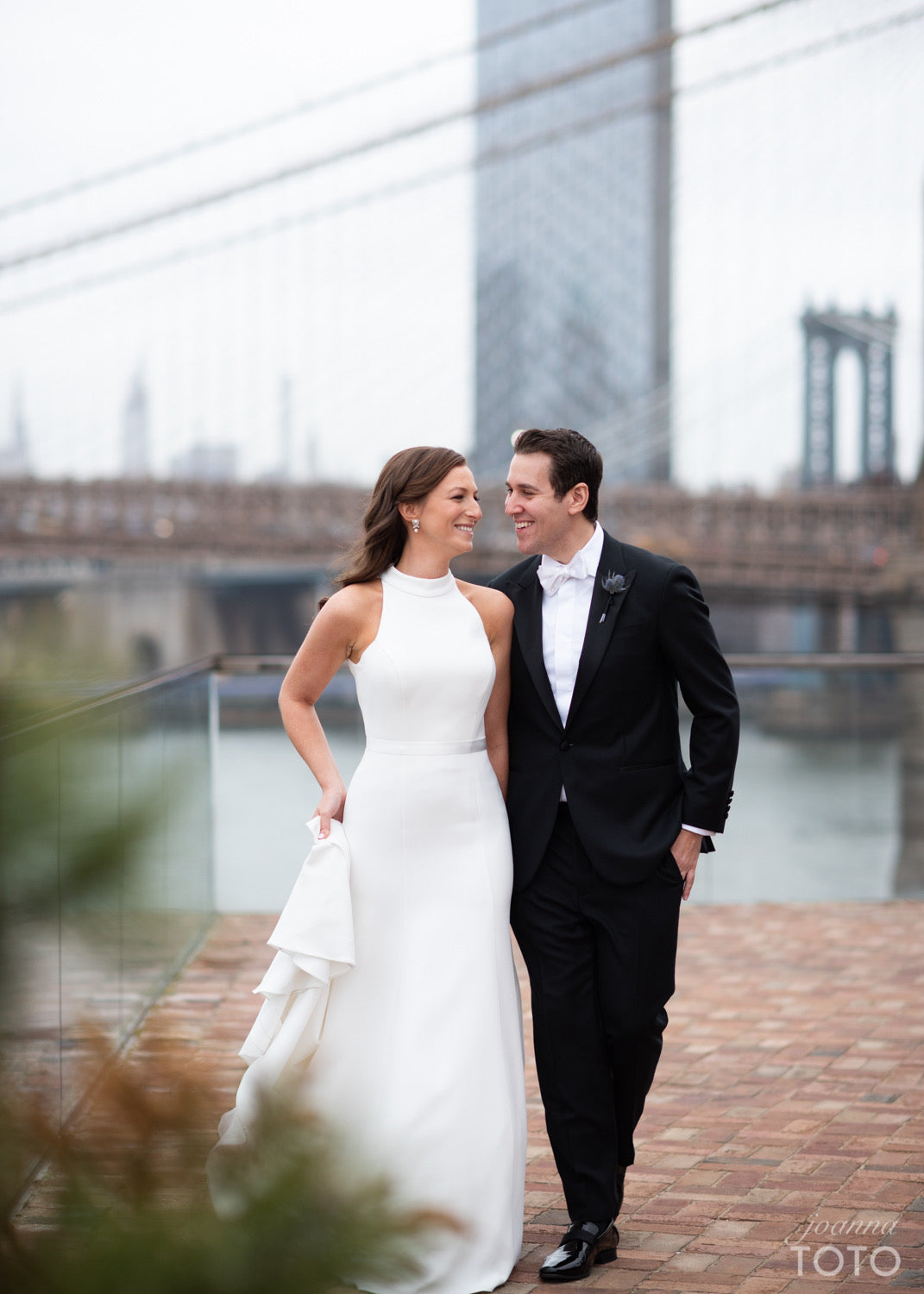 A Fun-Filled NYC Wedding
A fun and modern wedding, this couple was married in NYC at 1 Brooklyn Bridge Hotel in January of 2020. The wedding was super modern and fun with lots of personal touches. 
For the ceremony, the bride wore a Caroline Castigliano dress. Stranded down from the beautiful Chuppah frame the couple was married under were 1,000 hand folded paper cranes. Traditionally it was believed that if one folded 1,000 Origami cranes one's wish would come true. The bride has a modern aesthetic and grew up in Asia so there were several nods to where she grew up in the invitation suite we designed. 
For the invitation suite we thought about how we could have fun with the wording. The invitation itself is two-colored letterpress and was inspired by a bit of MadLibs. If you just look at the blue wording, you have one message, but you have a whole other message if you look at the two colors together. Fun was also the vibe for the reply card that says "You stickin' with us?" which ties in with the stickers included with the reply card. 
The guests used the stickers to decorate the reply card envelope including Hello Kitty (who made a personal appearance at the reception), cranes as a nod to their Chuppa vibe, and the couple loves Back to the Future so a Delorean sticker was also included... super fun!
Japanese Chiyogami paper was used for the envelope liner with a subtle wave design that is also a nod to the bride's time in Asia, bringing the entire invitation to the next level.
For the reception the bride changed into a super fun bridal jumpsuit perfect for dancing the night way and for hanging with Hello Kitty!
The Details
Photographer: Joanna Toto
Planner: In Any Event 
Venue: 1 Hotel Brooklyn Bridge
Florist: Birch Events
Dress: Caroline Castigliano
Romper: Tadashi Shoji
Caterer: PCK Catering