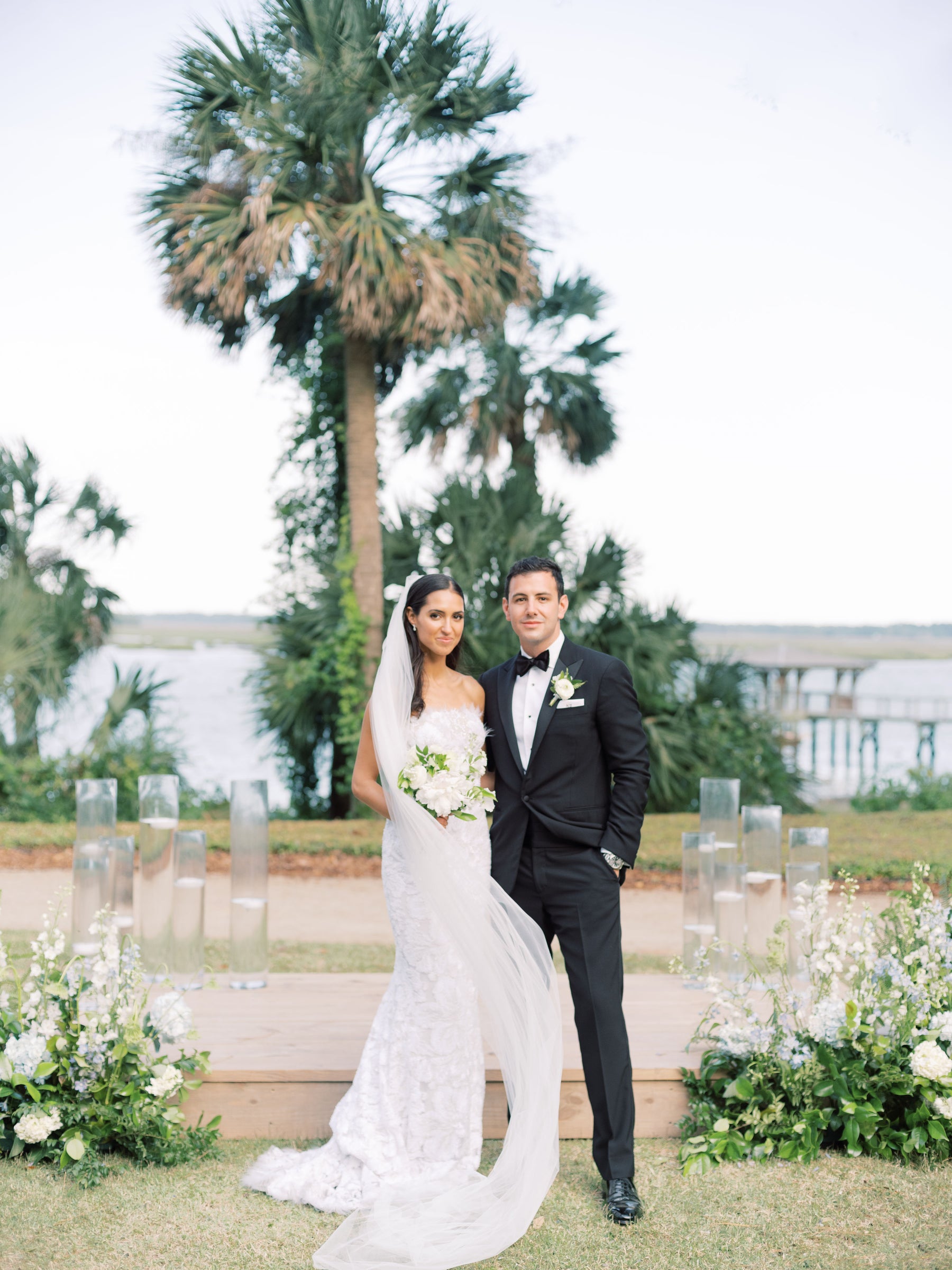 A Southern Spring Wedding
Palmetto Bluff in South Carolina was the scene for this springtime wedding (and also where Hailey and Just Bieber got married, just saying!). Although the bride is born and raised in New York, her family has been traveling to this spot for years and it has come to feel like home.
The couple had their first look on their favorite tree-lined path on the property. The ceremony was set against the backdrop of the May River.
For the ceremony, the aisle runner was lined with lush white and blue hydrangeas sprinkled with greenery. Guests were greeted with raffia fans to beat the southern heat adorned with ceremony programs custom designed by us.
The reception was set underneath a sailcloth tent set along the Village Green ruins. The bride and groom wanted to highlight the natural elements around them so they drew inspiration from the landscape accentuating an organic, green feel highlighted with rattan light fixtures.
The inspiration for the Truly Bespoke wedding invitation suite was provided by all of these natural elements as well as the decor of the event. We designed a duogram with their initials that was used throughout the suite - and thank you notes!  And the floral envelope liner... we just swooned. Very extra special note: the bride's aunt created the original illustrations as a gift to the couple.
The details were all laid out on a crisp, white paper with navy script , settled inside a crisp navy envelope. Hand calligraphy ties everything together;  stunning, don't you agree? 
The weekend's festivities were laid out for guests in detail including an illustrated map of Palmetto Bluff. There was also an illustrated menu for the dessert bar at the reception. Very extra special note: the groom's uncle created the original illustrations as a gift to the couple. 
A personal note, complete with the floral details found on the rest of the suite, was included with the welcome bags as well as other custom details like the monogrammed sticker for the mints. Attention was paid to every detail; it's what makes the whole experience Truly Bespoke. 
The Details: 
Photographer: Elizabeth Lanier
Planner: Kristin Doggett of Bellafare
Venue: Palmetto Bluff
Florist: Katelyn Pinner Studio
Dress: Mira Zwillinger
Tux: Ralph Lauren