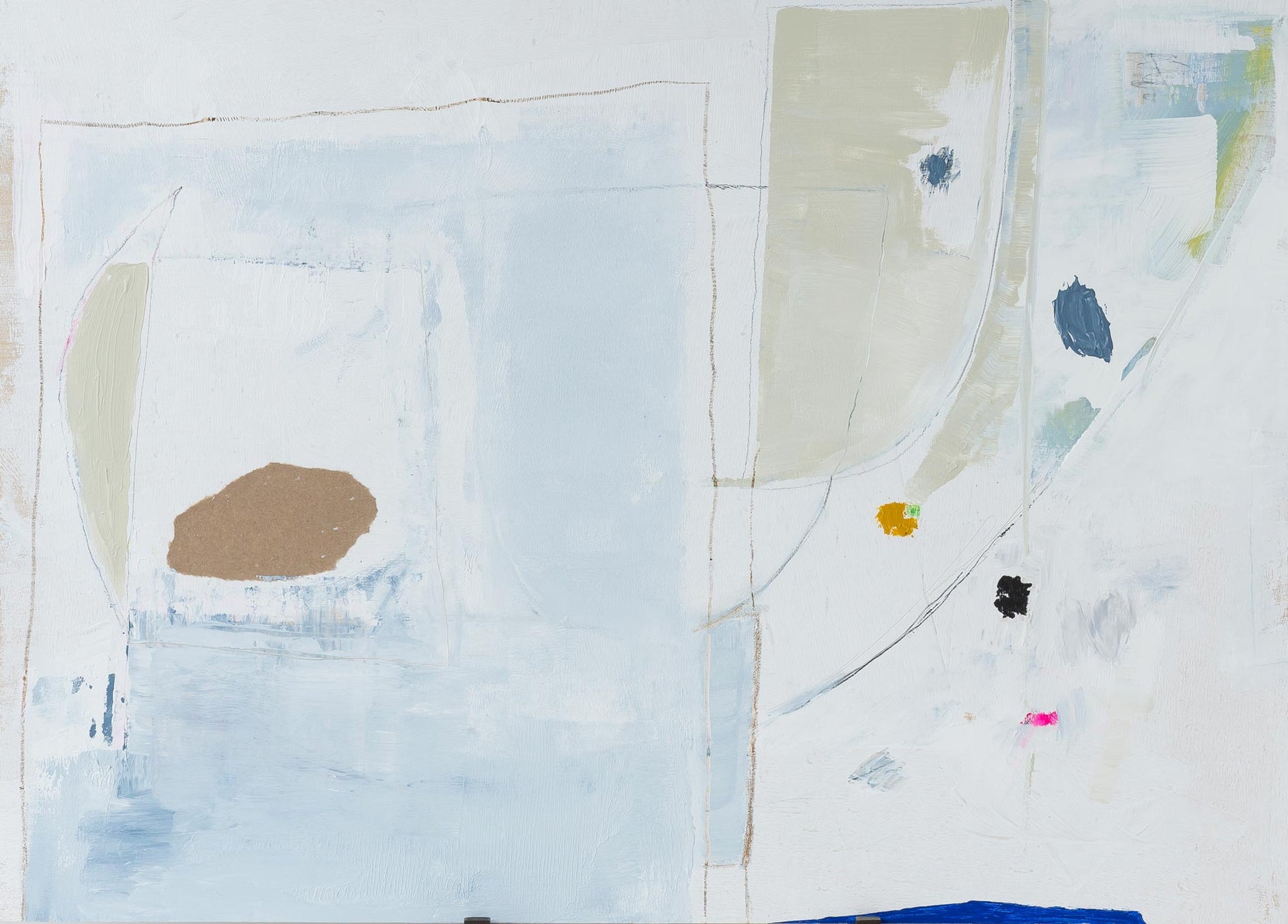 Artist Insider: An interview with Sue De Chiara
Growing up in an artistic family, Sue has always been drawn to creative pursuits. In 2009, Sue founded the widely followed design blog, The Zhush, while raising her three children. After ten years of writing about design, Sue decided to return to her roots and start painting again. Abstraction, with its freedom of expression and its mysterious and unpredictable elements, has become her favorite mode.
Sue De Chiara is represented exclusively by Bespoke Designs.
What's your process to create your work?
When it comes to creating, I don't have a very involved process. I focus on what colors I want in the piece, the size of the canvas and then a very basic concept. Just as a starting off point, I think it's so helpful to have a concept or idea in mind; but then—once the painting is underway—I like to add and take away elements until the final painting sort of unveils itself to me. This could take days, weeks or (if I'm very lucky) just a few hours. It's never the same.
Who are your biggest influences?
Helen Frankenthaler is a favorite artist of mine. I also love Cy Twombly. Hunt Slomen's pieces always make me smile. The colors in the quilts of the ladies of Gee's Bend are incredible. The list goes on and on and changes a lot, too!
What's your Background?
While I did minor in Fine Arts in college, my background as far as education is in law! However, I took art classes at the 92nd Street Y in the 90s and, more recently, abstract art classes at the Silvermine Arts Center. I stuck with the same teacher, Natasha Karpinskaia, for several years. She's incredibly inspiring as a teacher and artist!
How did you know you wanted to be an artist?
There wasn't a light bulb moment where I knew I wanted to be an artist. I'm sure this is because more than half of my family—my father, brother, several cousins, uncles and one grandparent—were all artists. I grew up in an environment where art, in all its forms, was encouraged as a hobby or an occupation, either in graphic design or illustration. So, I always felt confident in my artistic abilities. However, around 2017, I finally worked up the nerve to try out abstract art—something I had never done and always wanted to try.
Can you remember the first time art really made an impact on you?
I wish I could remember the first time art really made an impact on me. That would be an incredible memory, I'm sure! But I don't remember a time where I wasn't exposed to art. Museums and art appreciation in general were just always a part of my life I guess... However, I do remember being completely enthralled as a young child by my dad's copies of Architectural Digest. In particular, the ultra modern glass houses—I had never seen anything like those before!
What's your favorite piece of art?
I don't have a favorite piece of art; that would be like choosing a favorite child!

What are you working on at the moment?
At the moment, I'm working on smaller pieces and trying to challenge myself to use colors outside of my comfort range.
Where do you find inspiration for your art?
This is incredibly cliche, but inspiration is literally everywhere! Nature, architectural shapes, fashionable color combinations—if you're open to it, it's everywhere!
What is the biggest challenge of being an artist?
There are several challenges, but my biggest right now is time. I always need more time or can't find enough time to paint. I hope to get on a more regimented schedule once the school year starts up again in the fall.
What do you dream about achieving with your art?
My dream right now would be to see my art featured in as many beautiful homes as possible. I get such a thrill when I see a piece I created hanging in its new home.