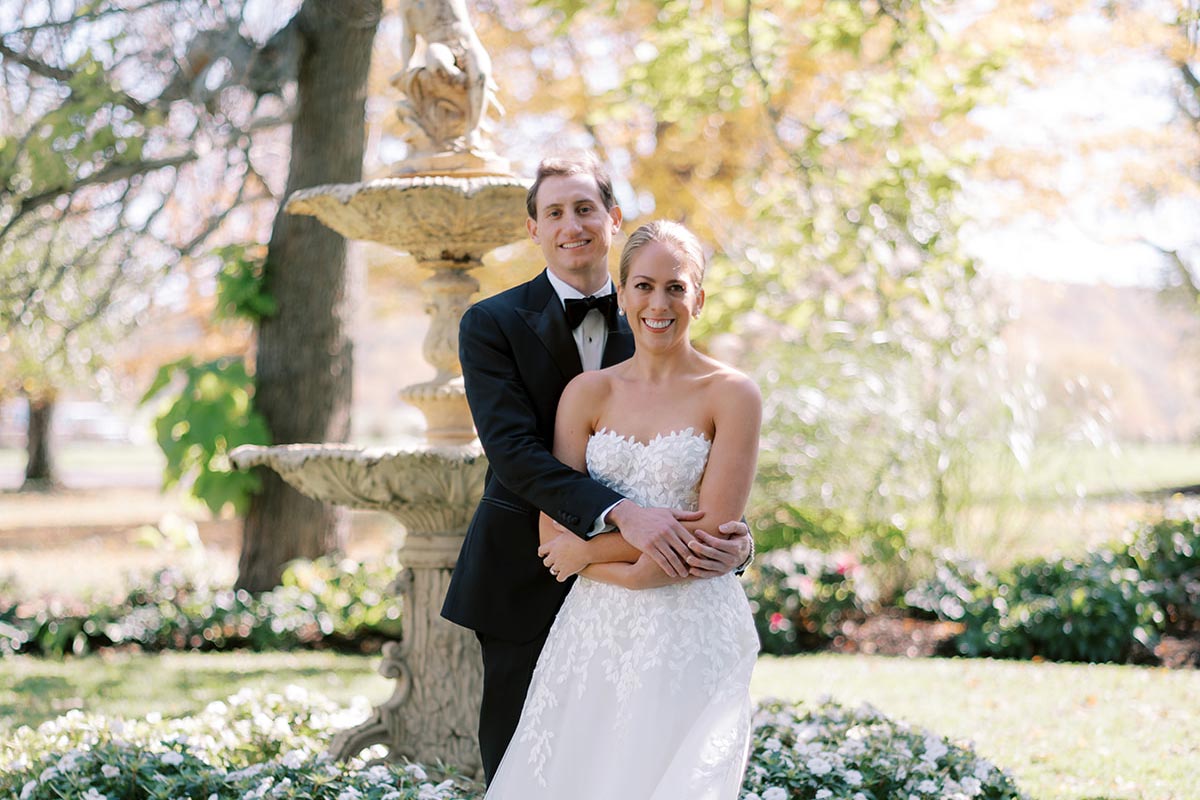 Get to Know Adaire & Alex
Looking for go-to guidance on weddings and entertaining? Get to know our fab Bespoke couples. Having recently traveled this path, they "dish" on everything from amazing invitations to rocking your registry to hosting in style.
Q: Tell us a bit more about you and your spouse.
Alex and I live in the Gramercy neighborhood of New York City. We are both from Connecticut (New Canaan & Norwalk) but met 7 years ago through mutual friends in the city. Alex works in finance at Goldman Sachs and I work in marketing for Paramount.
We both love to entertain, Alex as the mixologist and myself the chef/baker, for friends and family. In fact, we host a weekly Sunday dinner for family and friends that has quickly become the highlight of our week and a big influence on some registry items.
When not at home we love checking out new restaurants, playing tennis and paddle together, and traveling. Next on our list is Turkey and Amalfi Coast!
Q: What stands out about working with Bespoke?
What stands out was the personalized attention. Sitting down with Shari and then working with Monica felt very hands on. After sharing with them my mood board, I felt like they instantly understood the vibe and look we wanted to achieve.
I loved seeing the inspiration wall at Bespoke during our first meeting with Shari. It was helpful to see the previous season's invitations to open my eyes to the variety and possibilities.
It was fun to flip through and see what couples had selected - some we even knew! - and understand what details were most important to us.
Letterpress Wedding invitation with custom duogram. 
Q: What influenced your vision for your invitations?
Working in advertising and marketing, I'm familiar with creating a masterbrand and having elements ladder up into an overall theme to ensure cohesion. I think this was a driving force in how I approached our wedding, especially the stationery.
We worked with Bespoke to pull these themes into the invitation suite. From the fern leaf envelope lining to the mix of serif and script fonts, we were able to express our personal style and wedding vision through these details.
We saw the Save-the-Date as the introduction to our wedding festivities and used it to set the tone and give a sense of place to our guests. We wanted to capture the area's beauty.
Also, I would be lying if I wasn't also hoping to clarify that while the property had the word "farm" in its name - there would be no animals or hay bales.
The biggest compliment we received was when guests said not only how beautiful the invitations were, but more importantly, how much the invitation suite felt like a reflection of us. To hear that our friends and family could see our style and hear our voices in the stationery meant the world to us and a sign of a job well done.
The wedding invitation suite with watercolor images, printed envelope liner, custom duogram with letterpress printing.
Q: How did you approach your registry? Was it fun, challenging or a bit of both?
Living in a NYC apartment, we had to maintain a delicate balance of what we would use right away and what we wanted for the future and considering how it would all fit (thanks mom and dad for serving as our personal storage unit ;)).
We also focused on entertaining pieces as we host weekly - if not more - dinner parties. Growing up, I used to love helping my mom set the table for gatherings, and I wanted to start my own collection of fun tabletop items. It was also important to me to offer our guests the opportunity to support a local and independent store, like Bespoke, and have unique pieces that we don't see on every other registry.
I think registry shopping/planning was one of Alex's favorite parts of wedding planning. Not only was it fun to browse all the items from various shops, but also it brought up conversations of pieces he loved from his childhood home that he wanted to continue with our family.
Adaire and Alex's New England Modern registry moodboard.
Q: Any tips related to invitations and registry that might help other couples?
Looking back, I wish we registered for more quantities of items such as napkins. We started with six or eight and have found ourselves setting the dining room table a few short - mixing in a few Paprika Herringbone Fringe with the Grass Herringbone Fringe napkins.
Also, you can never have enough serving trays and platters! For anyone starting a registry now, I would say: Stay true to your vision! The benefit of social media is there is endless inspiration, but this can also become a negative as you start the design and registry process. Remembering your own personal style throughout can be hard but so worth it.