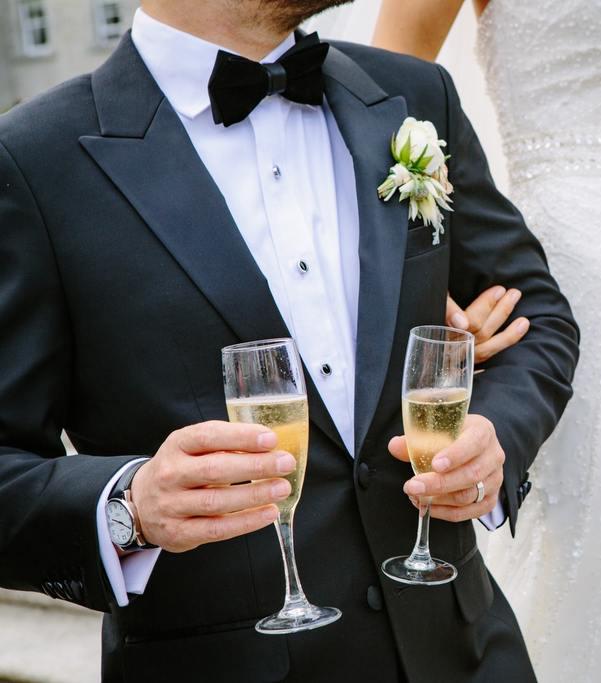 Can You Say "Black Tie Optional?"
We get this question a lot so we thought it was time to write about it! Of course we will do anything that the couple desires; however, we feel that putting "Black Tie Optional" on your wedding invitation creates more confusion than it helps. In fact, according to Emily Post, dress notations should not be included on the invitations to the ceremony at all unless it's Black Tie or White Tie.
We have a fabulous Etiquette book by Mr. Boddington that indicates that some modern-day invitations say "cocktail attire," "semiformal," "coat and tie," tuxes" or my favorite "smashing frocks." This can become a sensitive topic for some couples who really want a Black Tie affair but don't want to seem elitist or force their guests to buy or rent a tuxedo. But in reality, if your best bud realizes last minute that his tux doesn't fit anymore or is full of moth holes and shows up in a navy suit, so what, right? It's not like you won't let him in!
The beauty of modern day weddings is that so many couples have websites - this is a great place to put information on attire. Brides, if you really want all of your girls to wear long gowns, have fun and tell them on the website. Grooms - same for you!
Weddings are hosted in so many different locations these days - barns, warehouses, gardens and ranches to name a few unconventional wedding spaces. Have faith that your guests understand that your wedding day is a celebration and that dressy or evening attire is expected. Typically, the time of day is what really indicates the attire. Putting too much wording about attire on the actual invite often creates more confusion than necessary. Let the invitation celebrate the event and the couple, keep it pure and beautiful. Leave those other details for the website!
Just one last word - never put what not to wear or bring on an invite - that appears tacky and or crass. In general, we think you should release some desire to control every aspect of the wedding. According to the uber-talented Heather Wiese Alexander from Bell'Invito:
"The last piece of advice is the most important. Some people are just thick-headed when it comes to being appropriate and respectful. You won't get through to everyone, and that is perfectly fine. If you're a blessed person, you love a myriad of types and they love you right back. A guest arriving in shorts is a reflection of their taste, not yours. Do what makes you look like an elegant bride and let go of what you can't control. You will have a day of memories you cherish and people who wonder how they got to be lucky enough to be included by such a wonderful person."