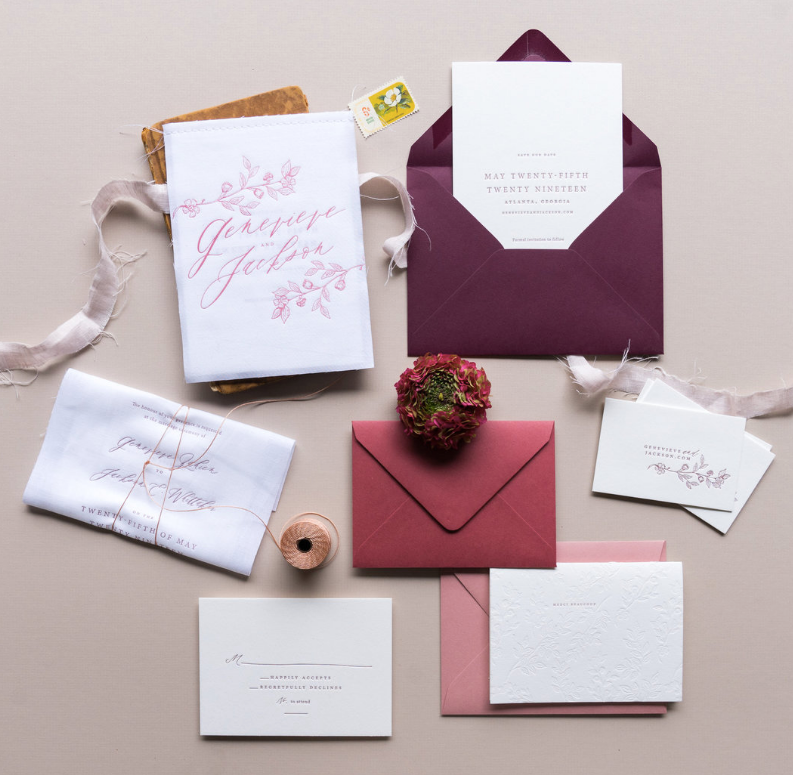 What to Consider When Ordering Your Wedding Invitations
When is the best time to send your Save the Date card?
Newly engaged brides-to-be always want to know when the best time is to send out their Save the Date cards. We say the same thing to each and every one one of you - ASAP! The sooner you can let your friends and family know, the better.
This is especially important if you are planning a destination wedding or inviting people who live out of the area. This will allow them ample time for all their planning - from scheduling vacation time, arranging for pet or child care, to booking travel and hotel arrangements.
Your Save the Date card is the first step.
The rest of the wedding suite will follow and we suggest using the same rule of thumb. As soon as you are able, especially if you're planning a destination wedding, get those invitations in the mail!
We spend a lot of time with our brides-to-be, and their mothers, planning each step of the way. We get to know our brides intimately, developing close relationships. As a result, each invitation and wedding suite we create with you is unique and personal, a direct reflection of your style and the wedding that you are planning.

What do I include in my Wedding Suite?
We go over each and every detail over and over again with a meticulous eye. If your Save the Date cards or website don't include hotel and travel information, we will choose to include this information with your RSVP cards, perhaps in form of a watercolor or hand painted map.

How Many Invitations Should I order?
We cannot stress enough the importance of ordering up. Always order a few more than you think you'll need. And here's why...
Most vendors print in sets of 25, so when you start creating your lists we strongly recommend that you round up your number. It's always better to have a few extras on hand. If you plan on ordering 110 invitations, we encourage you to order 125.
While you've likely been meticulous about your guest list, people inadvertently get overlooked, or as they say "life happens." Perhaps you've recently accepted a new job and want to invite a new boss or coworker. Perhaps, despite your thoroughness, you inadvertently left someone off the list - you wouldn't be the first person to have done so.

There are so many moving parts when it comes to creating a wedding suite. The process is incredibly labor intensive, involving many steps from pulling all the resources, to printing and edging. Ordering an additional 25 invitations after the fact can cost you as much as half of your entire order. (Ouch!)