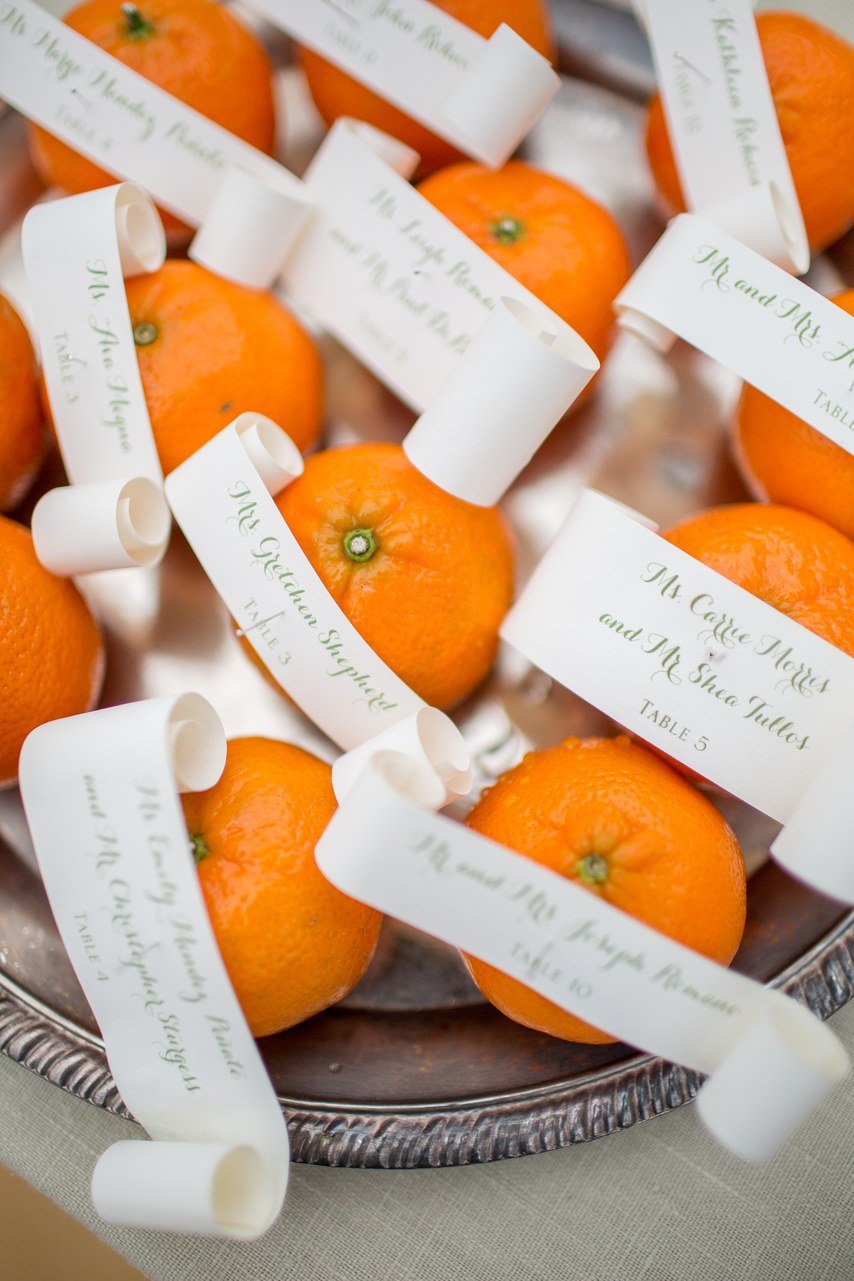 Do You Know What the Differences is Between Escort Cards and Place Cards?
Photo by Meg Smith Photography | Design by Jenna Lam Events | Calligraphy by Janis Anzalone
Many people get confused between place cards and escort cards. In fact, in the 19th century, escort cards provided a subtle way for men to flirt and politely ask a woman if he can escort her home- they were like the paper version of Tinder! Escort cards and place cards are definitely not the same things and both (in our opinion) are necessary! An escort card directs each guest or couple to the table where they are sitting. A place card is the card tells them where they are sitting at the table. If you prefer to let guests chose their seat at the table then you only need escort cards. But if you don't have escort cards and let guests pick their own tables- you'll probably have a lot of tables with empty seats. Place cards can also prevent confusion as to where to sit, especially if the guest is single. All in all, we think both escort and place cards add just the right amount of elegance and order to a wedding. Also, you can have so much fun with how you create and display your escort cards. We work with very talented artists and calligraphers who do amazing work on paper and can write on just about any object. Email us at info@bespokedesigns.com or call us at 203.557-6777 to make an appointment. Or stop by our studio in Westport, CT!
Photo by Larissa Cleveland | Design by Allison Weddings | Paper Products by Heart Paper Soul
Photo by Christy Wilson Photography | Planning & Styling by Randi Events
A few simple points to remember:
1. An escort card can be formal with an outer envelope or it can be as simple as a tented card. It can also be a physical object (a shell, leaf, vase, etc.)
2. Arrange your cards in alphabetical order (by the last name) so that guests can find them quickly.
3. The proper etiquette for addressing escort cards is as follows:
A married couple: Mr. and Mrs. John Brown
A single woman with guest: Ms. Jane Smith and Guest (or Miss Jane Smith if under 16 years of age)
Unmarried Couple: Mr. John Brown and Ms. Jane Smith
Family: The Brown Family
4. The place card is the perfect way to indicate the meal selection- either by color coding or by using a small symbol.
5. For the place cards, be sure to put a small table number on the backside so that you can sort and place them easily.
Photo by Jose Villa | Design by Sarah Winward | Planning by Laurie Arons Special Events
Photo by Love Is a Big Deal Photography 
Photo by Orchard Cove Photography